E97: Dr. Dave Introduces New Series – 'Resiliently You' Podcast Theme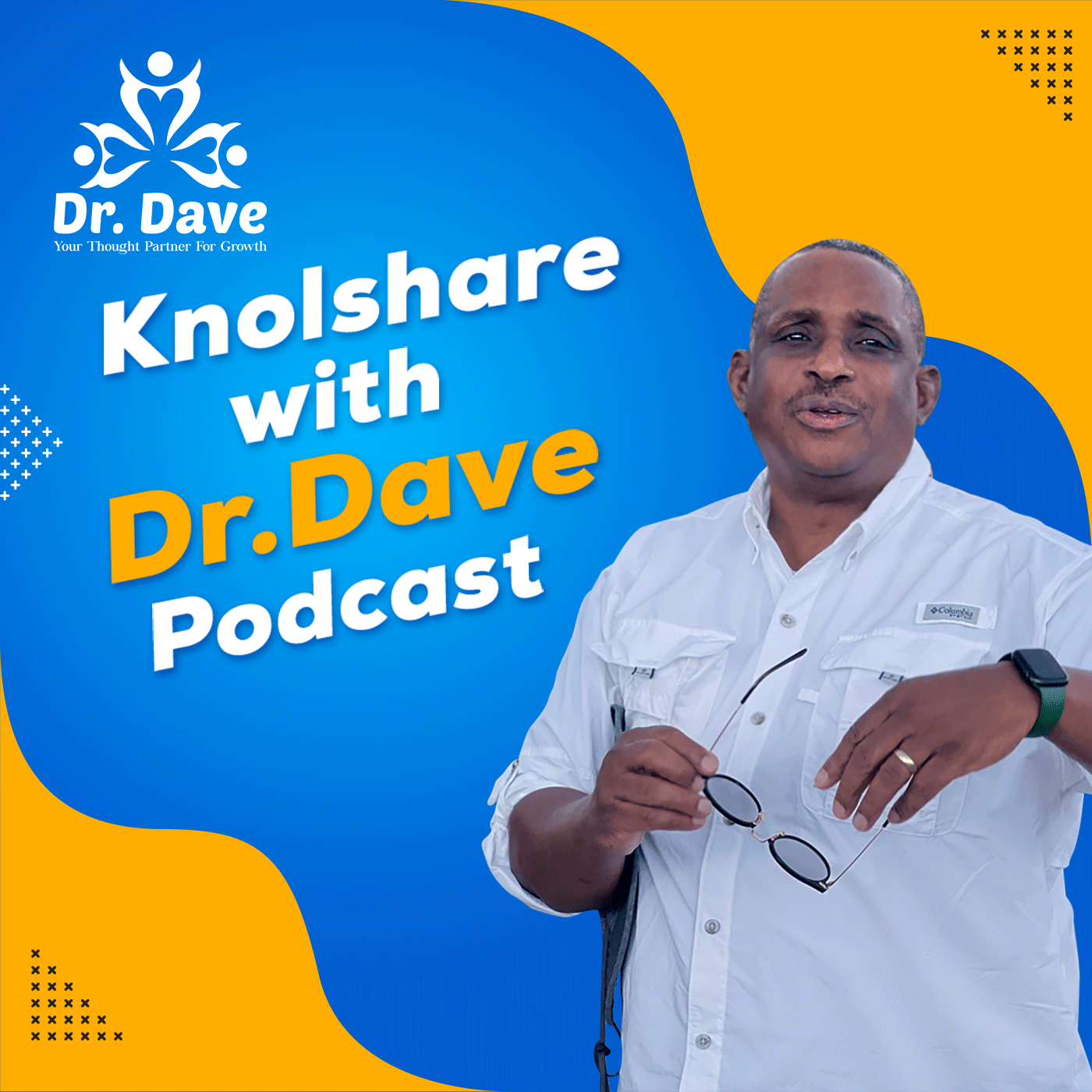 Kayanna Brow-Hendricksen: Singing
Dr. Dave:
What is the importance of belonging, and why do we all need to belong somewhere? It is built into our human nature. Learn how the powerful philosophy of Ubuntu helps to deliver a simple roadmap to building positive teams and relationships, improving engagement and performance.
Get your copy of Belonging and Healing, creating awesomeness for yourself and others, by Dr. Dave Cornelius on Amazon.com.
Hello, and welcome to the KnolShare with Dr. Dave Podcast. This is Dr. Dave Cornelius, your host. We're launching the KnolShare with Dr. Dave Podcast. I would like to take a minute to introduce myself. I am a business executive, organizational and agile couch and trainer partnering with leaders and teams and for-profit startup, nonprofit organizations to deliver a level of awesomeness that meets their needs.
My journey includes working with Fortune 50 to Fortune 500 companies at times and startups. I've helped some of those teams and organizations to deliver more than $1 billion in customer value. As a business organization and agile team coach, I partner with sometimes startups companies to facilitate the commercialization of their ideas and help them bring those things to market.
My work with clients includes delivering in-person and virtual immersive learning experience using Scrum and Kanban and SAFe frameworks, design thinking, lean startup, though do help people with professional speaking, and just professional coaching, publish a doctoral manuscript focused on the value of scrum to organization in support of management and organizational leadership. I'm also done computer science and have an MBA.
One of the key things that I really do a lot of is really contribute to underestimated communities is one of my key passion. I'm a founder for this conference and meetup call Agile for Humanity. We try to support the BIPOC community, creating a voice in product development and the technology field that normally isn't in there.
I've also started the 5 Saturdays, and that's the number 5 Saturdays program. It's a STEAM program that empowers underestimated high school students to pursue additional knowledge and careers in the STEM field. It's always fun working with 13 to 19 year old teaching them about technology and STEM and entrepreneurship, and some of those really core skills that we're going to need in the future of work.
I'm also the author of five books. These include Transforming your Leadership Character, The Lean Thinking & Agility Way, Elastic Minds: What are you Thinking?, Prayers to My Abba Father God, a spiritual book. Also, I just wrapped up Belonging and Healing: Creating Awesomeness for Yourself and Others. And just released Deliver Value: Happy Contributing People, Satisfied Customers & Thriving Business.
In my spare time, I do a monthly podcast and blog. It's called KnolShare with Dr. Dave, and you could find those in some of your popular streaming services, that include Spotify, Audible, Apple Podcast, Google, and many others. I'm a husband, dad, and grandfather.
In this relaunch, we will begin with the Resiliently You Podcast Series, and the Resiliently You Podcast Series will cover several topics, that may include belonging and healing, deliver value, prayers and meditation, generative leadership, and innovation.
COVID 19 has really pressed a stop button on most of our world activities that made us pause for a moment to take notice, sometimes of the harm done to each living being on this planet. If there was a time for us to reimagine who we are and how we can make things better, this is the time. This is the time to do so. If you're feeling shaken by the pandemic experience, this is the opportunity to focus on being resiliently you.
Resilience is the ability to cope with and recover from setbacks. Resilience is also what gives people the psychological strength to cope and stress, to deal with stress and hardship. You think with people with psychological resilience, they could use their skills and strength to respond to life's challenges, which may include things like financial issues, illness, job loss, medical emergencies, natural disasters, death of a loved one, even divorce.
Just think of people that you know that demonstrate in resilience in the face of challenges in life. You can ask, what are some of those virtues that comes to mind? There's six of them, six virtues that pops up in my mind. One of them is wisdom. The other is courage, humanity, justice, temperance, having the ability to forgive and have modesty and transcendence, just the gratitude, hope, humor, the appreciation of beauty.
I looked up on verywellmind.com, and they had just different forms of resilience. So when they think of resilience, they were talking about physical resilience or they're thinking about mental resilience or emotional resilience or even social resilience.
I would say the audience of this series may be people seeking ways to thrive in this, what I call, volatile, uncertain, complex, and ambiguous world, which you call VUCA, a VUCA world.
Shamelessly, each of the episodes obviously are supported by books that I've written and will be available for your consumption, where you could pick up and purchase them on my website or on Amazon.
One of the things that I want to talk about is really thinking that belonging is a basic human need. It's important. It's an important part of who we are and how we find our identity. The language of belonging is that wonderful tone of invitation, a voice of acceptance, and the sound of empathy. I think about knowing to whom you belong, why you belong, and where you belong creates your resilience.
Well, I belong to my family, which now include my wife, my son, my daughter, grandson, sisters, brothers, nieces, nephews, cousins, and other non-blood family members. We all have those, and they're really important for our sense of belonging. I belong there because of the family that also that I was born into, the person I choose to marry. I really want to be in the family that I lead and share history with.
Where I belong is the places I serve as a volunteer in my faith and professional community. Also, the clients that I serve as a business executive, organizational agile coach and trainer.
If you stop and ask yourself just for a moment, just pause. Ask yourself to whom you belong, why you belong, and where you belong? Well, I hope you came up with the answer that help you to understand the importance of feeling like you belong somewhere because we all do.
One of the things that I think about where I belong, just growing up playing sports, this really important aspect of my life. I love basketball. I love football. I love sports period.
Growing up on the Island of St. Croix, I'm playing sports on a small island in the small town of Frederiksted, certainly helped me to build my sense of belonging. I think back to the time when we played Little League baseball, played in a team called the A's coached by Carl Williams. We were St. Croix Little League champions for the first two years, or for the two years that I played. Actually in the second year, we were the US Virgin Islands' League champion. A few of those players from that Little League teams went on to play Major League Baseball, or minor league baseball, I would say, which was really kind of fun. One of our players in our team, his dad was a US Virgin Island Senator, a local Senator by the name of Felix Francis. So we always got these additional perks more than other teams did because his dad had a bit more means. But he'd also really helped us tremendously as we were growing up as kids.
Those same years, many of the same players, we played a Little League basketball team which we used to call bitty, bitty basketball, nine to 12 year old boys playing basketball. We had a team called the Kings, which is really interesting that we went on also to be the best in our age group. I don't know. I don't what type of water we were drinking, or maybe it was just the neighborhood that we grew up with, or we were just lucky, had a bunch of people who really just had a great time being competitive.
I think sometimes I could imagine the sense of belonging that was developed in many of those players for winning in two different sports at the same time. I know it did for me. It didn't even stop there because basketball was the thing that I love. We went on to play in another league. The next age are from 13 to 16 year-old. We also were the champions for two years in the US Virgin Islands. We were so good that we were still that undefeated teams that people sometimes talk about.
I just want to give kudos to one of my childhood friend, Thakeba Reaven. He helped me a lot with my confidence and also helped me to increase in my capability as an athlete. We're still connected today. I just sent him a book and a t-shirt that says, "Belonging belong to everyone. Healing sustains it." That was really the forming of my resiliently me persona, and that helped me to blossom because I knew to whom I belong, why I belong, and where I belong. My sense of belonging was centered in team sports and a camaraderie that I still share with some of my former teammates today. If I run into those guys, it's just going to be nothing but fun.
But also, I think of trying to find my footing in corporate America, which wasn't easy. I studied computer science in undergrad school. I was one of the only African-American software developers in the organizations that I worked for. That was a really tough journey. I even went to this small college in Waukesha, Wisconsin called Carroll College and now called Carroll University. That was a challenge being an African-American in a community like that.
Being the only, it's really tough. If you could just imagine being a new hire in a company where you are the only person who look like you, or the only comes from the community that you do, sometimes it makes it difficult to find your place of belonging. So those things were always challenging in the early days.
The forming of my resiliently me persona struggled because at that time coming out of college, coming from a small island, going to a small college in a small town, I struggled to know to whom I belong, the purpose of belonging. At the time, it was just, hey, let's make some money, and there was nowhere to belong. So I went from job to job throughout my career when I found a job that I liked and the market somehow imploded, and that position was lost at that job.
But what was really fun was becoming a business owner, an entrepreneur, which also provided another sense of belonging and freedom. I had the autonomy to pursue my passions and learned a lot in the journey. Confucius says, "Do what you love. You'll never work another day in your life." Yeah, this is a challenging road being an entrepreneur and being a business owner, to start something from nothing. I was fortunate to start something with some financial reserves to get started.
Finding birds of a feather was a lot easier because of other entrepreneurs and business owners that I met was either trying to lock me up as a client or wanted to get after some of my own clients. Often, it just gave us an opportunity to commiserate about the struggles and find common ground in those painful experiences of being an entrepreneur and a business owner.
So the forming of my resiliently me persona grew because I belonged to myself. Why I belong was because of passion, something that I really enjoyed. Starting a business that did music and multimedia and software, also, I know where I belong because it was a choice that I made, something that I really cared about and was really passionate about.
But also in the journey of finding where you belong, my faith journey, finding belonging through faith was much easier, but still difficult. My sense of belonging was rooted in being an image bearer of the Creator of the world, the great I Am, God. I was made in the image of the Creator of all things. They would say, "If God is for you, who could stand against you?" That is a powerful sense of belonging. In that space of worship between you and God, there is limited friction, limited friction. Even when there is, there's an opportunity for you to resolve that friction. You could always ask for clarity and for forgiveness. Learning and going deep into a belonging relationship with the great I Am and God was much easier than sometimes relationship with people. People are difficult.
Oftentimes, members of the churches that I attended was as segregated as the neighborhoods in most neighborhoods in the United States. You could think back to Martin Luther King Jr. in 1960s, that I think it is one of the tragedies of our nation, one of the shameful tragedies, that 11:00 AM on Sunday morning is the most segregated hours, if not the most segregated hours in Christian America. You can think of that reality back to the 1960s. That still ring true today in present day. Maybe not as much, but it still rings true today.
So finding belonging in music, in a worship band and in a church, that was also fulfilling. It was another way for where to find my sense of belonging. Sometimes, look, I could tell you, being at a church sometimes, you could feel very isolated. They have their own groups and cliques and things like that. You would think that faith in Christ would be more than enough to help you find belonging in those groups. Sometime I struggle with the decision to remain in the church that I attend today. But to me, it's become less urgent now that I attend church remotely. Yay COVID. So most of my belonging now is with my family, which seems to be enough for now. In some cases I've become complacent now, but I think there's a journey for me to find a new church that reflects who I am as a African-American male. It's something that I have to address. The resiliently me must get up and go and see.
Now, part of my journey is also thinking about creating opportunities for being a leader. I've been playing around with this idea called a generative agile leadership, GAL, journey. I learned how to become a leader by playing a point guard position in basketball. It came natural to me for some reason, so I was able to direct offenses and defenses for four other people in the court at the same time. But also, I learned some of those skills, perhaps, even when I was a Boy Scout, an Explorer Scout, learned some of those techniques and skills about leaderships. I could think that there could've been many different activities that we did that helped me to learn and practice leadership.
The generative agile leadership, the GAL role, is unique. The GAL practitioner you think of, they're compassionate, patient, and kind with all partners to create an energy between people so they feel seen, heard, and valued. So the GAL individual creates an environment of belonging for others as well as himself or herself to thrive and experience joy. The forming of my resiliently me, as a GAL persona or leader, is to create space for others to experience belonging, help people discover their purpose for belonging, and find joy in the place where they belong.
Often, I don't do monologues about my podcast. I'm always interviewing someone. Very rarely do I ever do a monologue. So I wanted to just take this opportunity in this episode and describe who I am and what I've been up to throughout life. So let me just close and say thank you for listening to the KnolShare with Dr. Dave Podcast. I invite you to come back for more insights and perspective that may help you with discovering the resiliently you, the resilient you you. Yes.
In upcoming episodes, we will have discussions and interviews and conversations with other people to talk about, well, what does it mean to deliver value, and what's that all about anyway? What does it mean to belong, and why is healing really important? Why it is important to innovate and also work in your community and start to create things that are just helpful to other human beings as well.
I want to say that, come back, stay tuned and come back. The KnolShare with Dr. Dave Podcast is also streamed on Spotify, Apple, Audible, and Google, and many others. I want to say thank you to my niece, Kiana Brown Hendrickson, for creating the music at the beginning and end of this podcast. This podcast is copywritten 2022 by Dr. Dave Cornelius, and I'll share that org. So thank you for listening and stay tuned for the next episode of Belonging and Healing as we continue to share our stories and experiences and really start to talk about the resiliently you. That's my theme that I probably will be running for the next six months to a year. We're going to have conversations about that because I think it's really important, and especially in the time that we're in. Thank you again for just leaning in for a moment with me.
What is the importance of belonging, and why do we all need to belong somewhere? It is built into our human nature. Learn how the powerful philosophy of ubuntu helps to deliver a simple roadmap to building positive teams and relationships, improving engagement and performance. Get your copy of Belonging and Healing: Creating Awesomeness for Yourself and Others by Dr. Dave Cornelius on Amazon.com.
Kayanna Brow-Hendricksen: Singing
Podcast (ks_dd): Play in new window | Download (17.8MB) | Embed
Subscribe: Apple Podcasts | Email | RSS