EAFH67: Agile Communication for Agile Practitioners – Temitope Bolaji-Jegede
Temi Presents Agile Communication for Agile Practitioners at Agile for Humanity September 2023 Meetup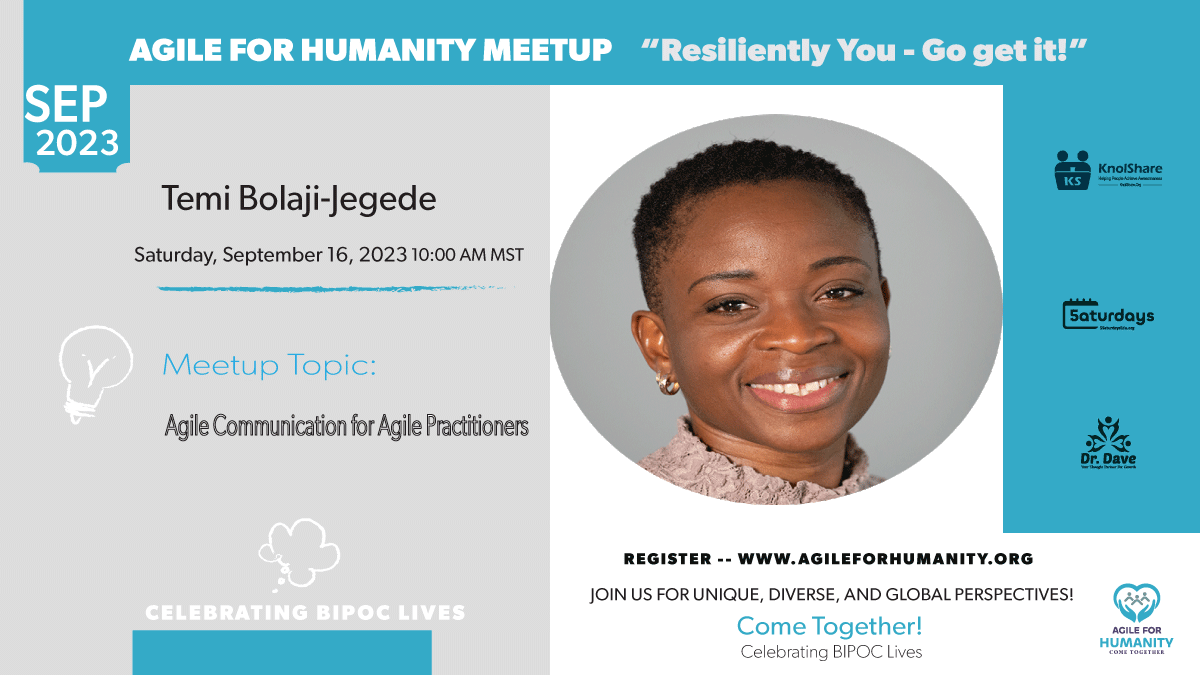 SPEAKERS
Temi, Dr. Dave, Kayana Singing, Christine, Denna
Kayana Singing 
Let's talk about it. talk, talk, talk. Lets go deep. We all have something to share. KnolShare with Dr. Dave
Denna 
All right. Welcome, everyone. Happy Saturday. Welcome to Agile for Humanity's meet up September meet up. And today we are going to hear from Timmy. I will not do her a dishonor of saying the last time let her do that.
Denna 
Oh, who was speaking to me is speaking on agile communication for agile practitioners, to me has worked extensively 15 years in the technology industry as a product person and a project manager in the United Kingdom and North America. So she's dual citizenship here, to me gets her energy in people empowerment and coaching. She is in career and business to me is ever learning and ever giving. She is also a member of the Jhansi Maxwell leadership team Jhansi Maxwell, and speaker she's a speaker who is dedicated to helping individuals awaken their extraordinary value and potential. She is passionate about herself and career development. Tammy is also a disk certified consultant with Maxwell company and she brings that deep experience in business analysis, product and project management, product management. And Timmy has also worked in these capacities in health tech and applied scientists, sciences industries across Europe and North America. Welcome to me, we are looking forward to hearing all that you will share today. The floor is yours.
Temi 
Thank you very much. That was a mouthful.
Temi 
Well, thank you so much. I'm excited to be here. I'm going to share my screen shortly but whilst I do love it nice to know where people are from. I'm from Montreal. I am in Montreal, Canada. It's nice to know where other people are from. So we just check typing in the chat. Let's see wherever we have people from all over the world represented. That will be cool
Denna 
Can you beat
Denna 
Yeah.
Denna 
So we got
Denna 
all the US Okay, UK. Okay, good. I used to live in the UK. I love that.
Temi 
Well come here. I'm going to share my screen I did in minutes ago. I'm going to show you again. So we're going to start with a game. Because I love playing games. You're gonna do a lot of
Temi 
learning by doing Can you see my screen? I guess you see the slides, right?
Temi 
Give me yes or no then please. Yes, yes, yes. And all prints. Okay, cool. Good now, all right. So we are going to start with a game.
Temi 
Okay, so this is
Temi 
as you said, thank you again, Dr. Dave, for inviting me here. Thank you, and thank you dinner. Thank you all for joining. It's good that you're investing in yourself because it's going to be a time of an ever learning so we're going to learn together and share thoughts together. Okay, so let's start with this game. There's a whole skins of animals and I want you to take a moment to get a notepad please on pin. And guests is a guessing game pattern recognition guessing game. So I want you to guess number one, just write it down somewhere. Number one, What animal is this? Number two, What animal is this? number three and number four give you five seconds? 10 seconds. 10 986?
Temi 
Did anybody see that? That was cheating. Yeah. Yeah. Good. Okay. So we are you're finished.
Temi 
Alright, so Well, thank you again for showing up. It's a pattern recognition game. I'm going to come back to that. And I also want you to think about when I come back to it, I want to think I want you to think about your behavior as you begin to identify the animals. How were you or what are you thinking? When you saw this one? What did you think about how to do? How did you sort of adjust or clean your body? Okay, so we have the did you get bad? Did anybody get this first one, you got this one? Mark, Mark your student class, notice your sudden mark your class, our mission and the zebra and the giraffe. So as you identified each of an animal what came to your mind? What was your reaction?
Temi 
You can just notice this down because I'm going to come back to later would you be if the same way around the giraffe or a tiger? Would you have the same behavior with a Dalmatian or zebra? Let's say you go to the safari park, what kind of actions that you take when you when you come close to a zebra? are you likely to roll down your windows? Are you going to become
Temi 
Let's come across the giraffe. Are you gonna roll down your windows? If you come across it, Tiger? Are you going to roll down your windows? I'm not? Fully not but okay, so not all that and now we'll come back to it later on. Okay. So, again, agile communications for agile practitioners, and it's going to be about adapting our communications for deeper connection and influence with people. So when you say, we are agile practitioners, or we are agile is what does that mean? Because sometimes people, what do you mean, you are your practice agile? What does that what does that mean in theory? So I know there's so many, you know, roles and responsibilities on titles, including product manager, Scrum Master, business analyst, release, engineer, etc.
Temi 
And the commonality is that we use this agility framework in our businesses in organizations with our teams. What I've realized, Messina, strange, as you see me have walked around different teams, different countries, different nationalities, what I've realized is that
Temi 
it's important to be able to succeed as a novelist, whatever the title is, you need to be able to communicate effectively and collaborate effectively. Otherwise, whatever you want to do doesn't quite, it's not quite successful. So in my times of, you know, going around the countries and teams and businesses, etc. Before I became matured, as an AU, as I grew in my maturity, and in my career, one thing would always come to my mind, and I want to check whether you resonate with that is how can I win in this conversation? So I go about many This was me many, many years ago, how can I win?
Temi 
I really want to win this conversation. What about winning me whether I want to make a change, I want to introduce a change, I just want to win, I just want to win.
Temi 
But as I grew, as I grew and matured, in my, in my career, I realized that that really isn't the goal. You know, it's not about me winning the conversation. It's not about me, you know, getting them to say, yes, it's done, I'm going to introduce the change, it's really that should really shouldn't be the goal. You know, the goal should be about all the participants in the conversation, they come away feeling and thinking very important, they feel and think the two different things that they've won, because they have a stake in the decision that was made. The goal really is that everybody wins together, whatever that thing is, we all win together. So it may not necessarily make it may be that I want you to reduce the change. I've had conversations with my key stakeholders or the you know, key decision makers and they say no, well, I still should not come away from the conversation feeling of not one, because I should have felt I've been heard, I should have felt I've been acknowledged. And this is very, very important. As I go through, you see why this is very important as agile is because we are either introducing the agility, we're coaching people in the agile mindset, we are in a change program where we're trying to get people to work together to change their mind, because there's a new priority. There's always this conversation, there's always this, there's always this conversation. There's always this negotiation going on.
Temi 
So my question to you, you can write it down is Do you disagree or agree with this? Is it about me you as a person winning?
Temi 
Or is it about everybody coming out feeling and thinking that we want in the conversation?
Temi 
If you think yes. Nod your head? I think we got reactions, right. Let's see. Yeah, you could do reactions as well. Country, you're more
Temi 
can you do reactions? Yeah. Can you get reactions emojis? We think yes, that is a thumbs up. No, thanks, Williams. No, okay. Hi. Okay. So that's good. That's a good place to start. So how do we achieve this win win? situation? Okay, I'll show you how. I'll walk you through how we can from my experience from having conversations with other idealist matured idealist in the in the world of comfort, walk through some scenarios, and you can we'll get into that. But before then I want to give you
Temi 
and I want you to use your imagination. Now, in this particular scenario, you've had a conversation with somebody, there'll be people you come away feeling and thinking that and I'm stressing the feeling and thinking okay, minds, logic, and hearts. Okay. You come away feeling and thinking that you were not heard or acknowledged. I want you to describe that fill in with one of these emojis, which I'm going to show. So one being
Temi 
not very frustrated. Smile.
Temi 
You're really frustrated and sad. And this is like, oh gosh, I love this conversation.
Temi 
Shouldn't I want to have it again?
Temi 
This is when you've not you felt when I hurt. You felt acknowledged. Type it in how do you feel? How would you feel?
Temi 
Let's see the charts.
Temi 
103 Yeah. Nobody for you want to have the conversation again? Dr. Dave?
Temi 
No. Yeah.
Dr. Dave 
I just fat fingered. So my fault.
Temi 
Going too fast. Yeah, yeah. Okay. Yeah. Mostly one or three. Yeah, it's really sad. So this is you in that position of being a receiver. So we have conversation sender and receiver, you are the receiver, you feel that way. So because we release, we also we also practice empathy. They can imagine you had a conversation with somebody and somebody goes away feeling like number three? Well, that should not be our rule. We should not make anybody go away with us feeling number three, number one. Okay. So let's keep going. I give another scenario. So this is one scenario, given another scenario, this happens to me quite often.
Temi 
I don't know what happens to you, too, by having a whatsapp call with somebody. And it says, we connect, and it happens to me quite a while my parents are in Africa and Nigeria, their long distance call you call them and it's like reconnecting and it comes back again. And then my mom says, Okay, what were you saying, you know, what is a break in the conversation, when there is a, there is a disconnect in the conversation, maybe not necessarily a telephone conversation about one to one, if there's a disconnect, everything you said afterwards, it's going through the left here, coming out to the right here, because the person is not taking it anymore. And once that there is that disconnect, there is no way I can get through to the person. Okay, so that's, that's one that's this is another one where you've been on the service line, customer service, especially, Your call is important to us, you're 30 you're 30 at number on the line, you wait for about an hour. And then something happens. This is a very frustrating.
Temi 
Oops, I need to this maybe it's just me.
Temi 
If you resonate, thumbs up, comes by we don't maybe it's just me, maybe just barely pressing the world. You do. Okay, great. All right. So
Temi 
surprise. So this is what we're seeing. It's it's one there is a break. That's it. But then we have this conversation. And I hear this a lot
Temi 
at the responsible. So the the responsibility of you the sender is that the people understand what you're going, what you're seeing the intent and the content. Now, I've been in situations where you know, walking with different people on the ward and necessarily, I don't even want to mention nationalities now. But you know, you're talking to the set of people, cultures, etc. And somebody comes up to say, Oh, my God, why are they not listening to me?
Temi 
Why didn't I listen, and it feels as if they're not listening. If I'm talking to a brick wall, you know, your your responsibilities that the person understands the context? And if you put yourself in a position whereby Well, my response is not just the past information, I'll give the content but that the person comes up to say, Yes, I get it. Yes, I understand it. If you put yourself in the role, then you should be asking yourself, I made a brick wall here. Or am I the guy or the other hand, because it could be the case that you are the person actually making it clear to the person to the other, the other person out? I might recall, it's going back and you know, introspect and looking it was to talk about this. And then agility practice introspection, how am I doing? How am I communicating? How am I showing up in my communication? Sort of being judgmental? You really need to look at what's unchecked, is my is my conversation really, is my communication really, clearly jumbled. And I give an example. I remember a while back, and we were, I set up a meeting with this. People that are people we wanted to attach to the roadmap, roadmap, road map presentation, senior team of the company, and I got their, you know, product roadmap, of course, we know what product roadmap is, I share it, give reasons why we've picked these things for this quarters x y Zed, and I realized that it was a particular person. Again, as we actually swing, you're, you're presenting you're looking at people understanding that they really get the failure look failing or following along. So I realized I was, like, at least two people, the two people that were not very engaged with me and I was wondering, you know, I was really at a loss because when I said I was going to do this meeting the way you know, wanting to do it, so they were really at a loss and at the end of the call At the end of the meeting, I had to go meet them. But was it not clear? You know, it's not set in stone, you know, the way he talked about is not set in stone, we can still change it. Obviously, it's the whole point. It's a hopper for changes and corrections. And they said, well, they were looking for what they were looking for was specific dates specific deliverables. Always doing what at when the dependencies Okay, so that's what that's a project plan. That is new put up roadmap. Again, for me, instead of we then say, Don't you know, what a product roadmap is? I'm looking at what did I know? Make it clear to them? Did I assume that? When I say product roadmap, everybody understand what that is? And it's so it's such a topic that comes about sometimes, okay, what is a product roadmap is like its release cadence, you know, they get to that argument. So what I took it from there was okay, next time, make it clear, this is what a P product roadmap roadmap looks like, give a screenshot in the meeting before the meeting invite so that they can prepare themselves. I am not judgmental, I look at what I can, how can I be better? How can I improve? And this is what we're going to be talking about today. How am I showing up in my communication was deeper good communication, good communication, gives birth to deeper connection gives better results into greater influence. And as it leads to be influential, very, very influential, we might not have direct reports, because that's just the way we are. But we're so so influential in that business. And we are relied upon for a lot of things. I did not see it in the beginning. But if you wish to the end of the way to the end of the session, I have a gift for you. Tomorrow is my birthday, I'm feeling very generous. So wait to the end of the session, I have a gift for you. Okay, so, I saw this guy a bit, I saw this thing in product school. It says in the mind of a put up product manager. Communication is 40% design is 20% and engineering 20% business acumen 20%. So basically, if you these are sort of technical skills, but communication is 40%. And I am saying inside the head of budget list, we are constantly communicating like we talk all the meetings all day, influencing all the deliberating all the negotiator facilitating all the that's our role. And then I also put a LinkedIn survey held in February there about vaccine people a dividend to men, women event project or product, what skill set is the most critical for success. The other women who the women who voted said comes on the connection and the men it's in between, but you could actually still see that 50% or 57% of them said it's communication or connection is very, very important because we're influencers or Oh influences a lot of people. That's why it's so important to understand what we're doing. We're engaging with the sales and marketing reclined customers, line manager, Scrum team, author of people when engaging with them. And so what we're what should be your superpower, really, as an analyst, apart from the technical stuff, while yes, as a scrum master, you can do your bond charts, you can do your velocity, you can do all that. As a product manager, you can you know, listen to the judges strategy, do the discovery. You want to do the discovery you need something? What should be your superpower? Type in a chart? What do you think?
Temi 
superpower listen and communicate. Yeah. Yes, ma'am. Thank you. Listen, then communicate. Yeah. What else who else has any customers? Yeah, but also lists. So Dr. Dave, I see your writing customer sense and trick centricity. It's also listening to them, isn't it? Yeah, bridging the gap.
Dr. Dave 
It's all of the above as well, it's not just bridging the gap or listening it's being experiencing that it's all of the above?
Temi 
Yeah, yeah. Within I like that. It's very important for you to read the read the room read what is on said pick up what is on set across the country, across the nationalities everything matters. Okay. So your superpower is really communication within the room, listening so it was just part of communication, I will say and what do we do you know as as the super super pupil, we're influencing your motivator, you're informing your oxygen. You're urging the gang if you're into product project management or scrum master Now I'm gonna give you a few quotes and then we'll go deep down into some more details. So this is from the ken ken AG is saying that the ability, the person who has a tech knowledge, plus the ability to communicate with people, one, and the ability to connect with people, motivating them to act to assume leadership for the person to assume leadership is added for iron in power. So lots of other people have said this that I know about in terms of, you've done all that technical stuff. Now you want to rise higher in your in your career, what should you focus on now, communication and connection? Okay, again, it's behind Harvard Business Review said the same thing number one criteria for advancement and promotion for professionals ability to communicate effectively. Warren Buffett, if you know him to get ahead, focus on your communication skills. So what we're doing is very important, very, very important. And if you're on top of your game, now you can even be better. If you're if you think you've reached the top you can share this once this once the video is out, share it to other people so they can see. So you know, we're talking about pattern recognition, the little pad the tiger on the on the zebra and all that, what we saw there is that we experienced the power of knowing the pattern. And once we know the pattern, if you if you were in the safari park, you would know what to expect from each of these animals from our world. So my just team animal they can actually put carrot into their mouths, they love it like the giraffe, you know what to expect, you know how to prepare, I know you will get a safe outcome in terms of the animals for every we're talking with people, you have a better outcome for them. And this holds true for in our lives and outside walking when relationships. When we become aware of patterns and how they communicate, we not only know the kind of communication to expect from those people, but you use you yourself. You can better prepare for that communication and how you can adjust your behavior to interact with them. Okay, so we're going to go through some some scenarios and you actually see looking at human behavior analysis you can see how people are different okay, yes, we know people are different. But people can be predictably different whether you're green, yellow, white, black, orange, whatever color your whatever nationality you are, I have seen that working with Indians and Chinese and Asians and Latin Americans and Europeans and Africans. Yes, very different people, but predictably different. Okay, so let's talk about my favorite topic, which is the disc if you're aware of it, it's a behavioral analysis to run behavioral analysis looking at human behavior and analyzing and this particular one is Maxwell John Maxwell, the part of the learning organization that I belong I belong to part of this particular disk has been it's been around for a while and some of the data I'm going to give unto you will you will see that there are spans over generations and years of study across different different regions and geographies and it comes out to give something consistent about people Okay, so some of the things we'll take away will be are you are you can recognize behavior be patterns of behavior in yourself very important. I can recognize in other people, the four types of disks that we have and the key strategies on how to improve K. As I go through this, I really want you to that I have a pen and paper I want you to to listen and begin to think in words. How am I showing up you know, that was the first question How am I showing up and it's very important because whilst you don't have control over the tiger bites in you or the new part bites and you you can prepare yourself for that encounter. Very, very important kit very important. So you go through as a calm I show you what is my old pattern of behavior, because change to change you need to be self aware to adapt to behavior you need to be self aware Okay? Before I go through that this this is not to box anybody into a corner or you know put a lid on you to liberate see this is all you have that's not the point. The point is though how I show up on our naturally show up K and do is d i s c u haul have we hold exhibit a little bit of di SC, but there's some that are more pronounced. So for example, I am an S. SC. CS rather more pronounced naturally. This is my style. Now if I'm working with a D person, I need to be able to adapt myself to suit a depressant and then we'll go through all that in a bit. Okay. Let's just understand that it's not about labeling anybody, it's not even to label you but to bring self awareness to yourself are clear, we clear they're good. Okay, good. So, some examples some examples for you. test scenario, you're waiting for an elevator. As the door begins to open, you secretly hope that no one is in the elevator. So you can so you won't have to go to the awkward moment of talking to the person on accident about the weather. We're trying to figure out what to say with them. So you press the bell, press the bell of the elevator from the floor you want and then the the button opens up button of the elevator opens up your shoes the door on the floor numbers as the change you begin to look through it you wish the elevator would go a little faster so you can make your quick quiet exit because there was somebody there unfortunately for you if that is you Tom's up
Temi 
No, good nobody's Okay, so fine. You don't have a problem with people have been a little slow for this first person or type kostow The person is reserved and and they are seasoned the Hesse's Okay, the seas and the horses are reserved people. They're hoping they will ever twice and this is actually me I don't want I don't have to chat with people in the elevator I just want to go in get out. Common you know, that's me naturally. That's me. So C C's and Ss are more reserved, they open the elevator is empty. But if there is if there's anybody in the elevator, the S person is able to come out and say hi, how are you talk about the weather like we do in the in Britain. We just find a topic to talk about. Now same elevator scenario. And now at the door begins to open you're curious and excited to see what's inside was on the inside of it. The minute you walk into it, you say hello, how are you? I was a day. What's your plan for Friday? What's the plan for weekend? I just you know stay have conversation with them. Whether you know them or not. This is just you. If this is you? Thumbs up
Temi 
beautiful. That's beautiful. Yeah. That's good. So you're more outgoing. You're more outgoing there you do in high cape. Thank you for that. Right. That's good. I'll give you another scenario. The deep people don't they don't mind anybody in the elevator. They are very dominant. Aziz said love it. So give me another example of occasion. Okay, you're planning a vacation you're very focused on what needs to get done in order to go so yeah, this is gonna pass this thinking have a list model lawn, get somebody to cut seeds used to cut sick people. We've got some some cuts. I used to do that. Get a dog, Sita. The flowers are going to be watered and you gotta rent for that you have a list of stuff to do. Your checking that deals with the hotel has a Wi Fi etc. You know, you're putting things in hot I have a list of stuff to do. If this is like Q on a vacation thing comes up. Very much action oriented. Yeah. Yeah, it's good, very much. action oriented. Yeah, the C, the DS and the C's. Yeah, I like that as well. Stop to do so I get myself to get myself too worried about this thing. So these are the C's are quite focused on getting things on a very much action oriented and it's great, it's beautiful. On the vacation mood, again you are thinking about the connections you're going to have the people you're going to see the you know the data you're going to talk to the antivirus puppy divers or you're trying to see whether they're going to be remotely again they have they found new love in their lives, your deep deep conversations and relationships you want to get into if that is you thumbs up
Temi 
again, okay, oh my goodness, I love that. Okay. And if that is you, you're very much people oriented. Okay, let me go back to that people oriented. On another one is instead of you thinking about the people you want to have this kind of conversations with you're thinking about the experience, like the fun you're going to have the places you're going to visit the things you're going to do like the fun fun fun. You were more of a foreign person. Exploration. Yeah, he's Mukesh on time. Yes. Thumbs up. Ah, hi, Dana. Good as a location. Thank you, Kristen. So, you you are is very people oriented. So we did say action oriented people, tax oriented people or D and DS and C's, people oriented our eyes and essays much about experience the high people the S is more about the relationship one to one season Ss are also quite reserved on D on Heiser outgoing, if you want to use that word, okay? Again, it's important well, why am I going through this so that we know how we show up? Now? We can once we know how we as we said, how we show up, we can begin to know where we can make comments. Or adapts not necessarily comments because it's not wrong, but adapts to suit other people. Because not everybody will be a DI not everybody is an AI s like everyone is now not everybody's gonna be like you or talk like you. So to avoid that. Am I speaking to the brick wall? We'll go through that. Okay. So di s I'll go through it in a minute. And I quite recall quite interesting Rico called dealing with somebody who was a callback to an MSCs dealing with an ID. The actions not not too bad, because we are aligned on that part of it. But the high is very energetic. I mean, I check it individual. Let's just go have four. And I'm thinking No, we've got to finish this walk. We've got to finish this walk. We got to deliver this thing on time. We almost don't have time for launches. Yeah, you know, and I was actually robbing off on a bad note like, and I'm being called or Tim you overwork or sometimes because I was working as a project manager then Timmy over work was at some time do I read a walkie I'm sorry, I didn't realize that sometimes you skip lunches or you have launched your tip. Well, why do you have to go how to have lunch? Little things like that? What can we do with 18? Oh yes, this subtle things that give give rise to conflict I've seen a lot. But it's important to understand that walking for fun high person going out of the office mingling with people outside having lunch with people outside is how they get their energy. So if I don't get that energy like that, I shouldn't deny somebody else who gets the energy like what do you know? Little little things matter. Alright, so deep people, we talk about them now. Okay, D people research says this this fact checked, okay. 3% of the population of this world are di D people they see control they're very decisive, their results oriented action oriented and they're very direct when it comes to converse, confrontation or conflict they will come to you directly and say things and if you're not very mature, they rob you of the bad side because they just cut to the chase you need to be aware of this before but there was a lovely to be with they are driven by our 3d Obviously they like to take control you cold have seen places and times when I've set the agenda of set up the meeting and a deeper set comes in wants to rule the meeting. It's not because they mean anything bad is just because the way they are, why are they want to take control, they embrace changes so get them results which is good. And the trust reality so what they don't like and it's very important for you to know is that they don't like being taken advantage of the people they don't like that didn't as I said when you're having conversations with them you want to be brief direct and to the point recall, I recall looking at some execs having conversations the deepest thing was here and a high person was here and this high exec level the high person was given the report of what's happening and you know, I tend to put jazz and music and extra notes and stuff into the music because that's just the way they are and the hype so you could you know within the hair within the within the room was literally almost going to say so what happened so what happened and you know so it's important to know and watching it from him you know sometimes like oh gosh, and it's important to know that when you're meeting with a depressant the how doesn't really matter the fluff stuff, you know, as an Hi person the fluffy stuff really doesn't matter right now. I just want to results so what did you do so what happened? What were the results of what's happening next? What what what, don't ramble too much don't discuss problems and leave it like that. You want to talk about the outcomes the people I just like that. As I said, as I'm walking through it, I want you to think how how what is my preference? Is this me? And is this what I like? Because if this is you This is how you like to be spoken to. It is how we like to be communicator 2k Is this the way I like people to communicate with me you ask yourself Is this my default when communicating? Let's talk about the high people high people are fun loving people really, really fun loving people 11% of the world population, very persuasive, very Konstantinos, very friendly, a dinner afraid of this stage, not afraid of spotlights. But just you know, full of energy. It's fun to have them in the team. You know, when you're talking about team organized team, Team away day, they jump on it, they want to give ideas that's just not following people. Could be very emotional animated. They tell love stories and grit and courage us they don't like rejection, and they don't like loss of approval. So if you bear that in mind, if you're talking to an art person, but you are if you see yourself as an Hi. You don't want somebody else to do all the talking because you are taught electrocute yourself, you don't want to ignore and hype on high person's idea. The light to be appreciated, and you have to, you know, act and make it visible to them that they need time for socializing. They're not so much detail oriented people and they don't like long conversations going on and going on because they get bored and they switch off. You know, we talked about the disconnect. Once an eye person disconnects from the conversation, everything you say is how do you know? Are you laughing? What's going on? Tell me, tell us
Denna 
I think I'm definitely probably I've never taken the test. But of all the things that you've said. It's like you're reading my book right now. both Yeah.
Temi 
But they're lovely to be with like they said we have at least in some of them are your team. Okay, so that's an hire person. Now, S person 69% of the population very team oriented and more into the loyalty kind of thing the follow through the acceptance, you know, you tend to see this people in HR, usually. But they're very easygoing, agreeable, good listeners compassionate, and they treasure peaceful relationships. What they don't like, though, is confrontation and loss of security. So bearing that in mind, if you're an if you're an S person in talking to somebody you want that person to at least be friendly, okay? Because as people are friendly, show interest in them as a person they're very much into that one to one conversation and One to One relationships and very much deep. There. They don't come across as aggressive and they don't like confrontation. Okay. They like to have clarity you know, they don't like too much changes did but the lack of clarity and structure put structure to read and give them time to adjust. Again access of is this the way I like people to communicate with me? Is this my default when communicating? Okay, moving on to our C's very the 17 30% of the population very compliant, illogical they're logical they're planners they're accurate they have they're very keen on accuracy Get your facts checked get the details right kind of people and lovely to be with you know, especially when they're in the finance you probably want to show you know that you're right on track on your money and your spend they sick environment that honest logic and facts probably hear them say that doesn't that doesn't make any sense. You know, some of the words to say they're very accurate detail oriented and they don't like criticism and that's because they before they come to say stuff they've done that they've dotted all the T's and dotted all the i's and cross all the t's they put a lot of work so when they come in to deliver work and you criticize it you could be robbing them off totally bear that in mind, where can we get with them you want to provide all the details you want to use validated facts quite important for I have a scenario DC person a line manager as a DC and I think another scenario so my their line manager is a DC and this person's and I S Okay, so DC very direct, wants it to be in control actions oriented fact checks, you know, numbers faster there. And I I especially like fluffy, since a fluffy so consists of dinner, I'm sorry, you call me to drop a report and the DC keeps crossing things out and and these are high. I'm talking about VPS VP level, crossing things out and the IRS comes to me to say oh T NP. Imagine what this person did was took, like, literally took a red pen. I was crossing my stuff out to book you. Oh, it wasn't it was. It's funny now you can. At that point, it was really bad. It was so frustrated. It wasn't happy to come to work anymore because yeah, but you know, I guess the discipline wasn't doing intentionally, but this is sorry, this is coming across, you know. So it's important to know, and because we are in that scrum agility world, we, we have very influential once the person disconnects with you, because you're, you have your red pen crossing their stuff out, there is no any, there is no information on a pass across that will make the person walk with you as a timber desire to work with others, or want to be so aligned with you. So it's quite important that, you know, how am I showing? You know, Is this me? Is this how I want people to speak to me? This is my preference, or is this me? Okay? You want to bring awareness to your survey, at least you know where to change? Okay, so for a super, super patient X lot of questions they could ask, they could extend 1000 questions within an hour. That's just the way they are. They're very specific. And it's quite funny, because see, people could also go into the rabbit hole, just keep going digging and digging, and they don't know when to stop. So some engineering flocks could be software developers could be like, what? Everything we just keep doing and doing it again. So being a scrum master, you need to bear that in mind when having conversations with them. Okay, so, you know, I did say, How am I showing up? So you need to ask yourself again, I think then I you find out yourself, but I'll run through it again. And I want you to just, you know, check through my confident Assa T, I receive, do I challenge the status quo, maybe not necessarily in a bad way. But you're thinking, well, things can be improved. Let's ask the question, why do we? Why do we do what we do? Why we do that, again? Like to be in control? You don't really like routine? Is this how I'm showing up now? And is this how is this my default isn't my preference? High person so I don't want it to say it's talkative. By just you're happy to charge you have copies of a chart, you have stories to tell you. There's always something to say you're very optimistic. You encode orders a lot, you're fun to be around with you're very sociable. Is issue? Or is issue, lawyer, reliable, good listener, mediator, everything should be peaceful. avoid confrontation? Or are you the very excuse me organized structure, there has to be shadowed, there has to be a plan, we are working towards the plan. You don't mind working alone actually very quiet and reserved? Who are you? How do you come across? How do you show up?
Temi 
Right, so we've talked about pattern recognition in people, and also including ourselves, and our communication preferences. And once we know how to also know who we are, and who the other people were talking to, how they come across our show up, we're better able to have a deeper connection with them, we're able to build an effective relationship with them. Now, I know that people say that you don't have to have friends in the, in the in the workplace, you'd have to have friends, you know, to have friends, you know, you know that to build families? Yeah, we do not, you have to keep things professional. But you have to be effective in a relationship because we are sort of changed. I see us as change agents. I see us as helping the business to generate revenue. And I know that the teams that you work with, if they're working together, you're singing the same l drive into the same direction they do give it's a power it's a you know, is a it's critical success factor for the business to generate revenue. So if you're having break, you know, breaks and bridges and stuff in the in the company. Being able to be successful, being able to be able to you know, generate revenue or continue to generate a new will be a bit tricky. Very important as your as an analyst, whatever role you're in knowing knowing that people are different but predictably different and you have the power, not to control them, but to adapt yourself to them will give a better result. even know that already. You're just ahead of the game ahead of every other person's game. Okay. Now when we're dealing with P Pour this there's a rule that says the two rules golden rule and the platinum rule. I wonder if you know that I'm sure that any bit that says that you should treat everyone how you would like to be treated. Okay? Maybe not. Because in relationships you need to treat others as they would like to be treated. Where else somebody wants to be treated in a friendly way the s our SS like to be you know, acknowledge them, treat them in a friendly way, be friendly, your tone and your conversation with them should be friendly as opposed to confrontational. To get them to act remember the code to get an influence them to heart, but the person doesn't care about friendship. That's what worked for the results. What's the bottom line? We know what the facts are the figures Where are we going next? What's happening? What's the plan, you know, they're very much also fast paced. So they thought time off saying okay, I think and I think and I am no, this is what I'm doing this is when I'm going to do by this is the result potentially assume the next two weeks. Okay, treat orders how they would like to be treated. So we already know you know, from what we see percentages of the DS and the SS on the eye and this is what if you can, if you can read with people and sort of put on the stand how they come across then it's better for you. It's good for you to be able to treat them it will be effective and useful and informative to know how they like to be treated and then you adapt your own communication preference to their style. Okay. So when communicating with other people this is a cheat sheet I didn't mention I was going to show you something right. Why communicating repeat other people or go with the difference okay, if they come out as an as confident aggressive, feel free to take the snap the picture please challenge the status quo likes to be controlled dislike people this is how you should adapt okay. Even if you're not surely not a D you need to just remember that you have to debrief I remember facilitating a ritual ceremony and I said well we're going to start had an agenda because I thought was necessary we start with an icebreaker we go through you know the what we did and then we'll talk about what what didn't go so well what went so well in a very nice little give them and then we'll finish up with action points three action points to call the group together I said again icebreaker but everybody knew what icebreaker was so an icebreaker something very random like Tommy the favorite food you like to eat when you're young and you select to eat it today. And a few people talked with the dough all this data and I can see that the more we got to this D person and said you know can we just get to the agenda please can we just cut off this to be honest actually took me by surprise because I have really it's a Richard Spencer before but this is a depressant trainer and you're very again very direct may not necessarily know that there be there could be rude sometimes they come across being rude. Maybe that's not their intention, but they're just direct CUT TO THE CHASE please, I don't want to get involved in icebreaker. So be brief, be direct, send the big picture, don't share, don't try and share the details because it boosts them for decision provide them an option. So just quite remember this every day person our ever talking to a D person you know we did say these are confident or assertive and Greg aggressive. If a D talking to a D Be careful, the goal is not that you win in that conversation. Because these are very controlling like this is what I want to do on the other deepest and since this is what I want to do and they have that friction going on. The goal is not to win the goal is that we as a team, so it may be that your option wasn't taken but at least you leave the place feeling heard and acknowledged the same with the other person you make the person leave the place feeling heard and acknowledged and that would only happen if you know you show up and you can adapt your way of showing up. Okay. Let's talk about the high people. You're talking to a high people optimistic encourages others fun to be around with very sociable, lovely people. If you are not an Hi, so you are D S and C this is a way to converse with them. So you can imagine a D person's very direct and focused action rated talking to an high person you'll get a friction because the high wants some fun in the conversation but the D is not ready for all that you get friction. Again even know yourself you know before you have the conversation With Edina, can you please take a deep breath in and know that this is just 10 minutes of a little bit of form, it's okay. You know, it doesn't hurt anybody. Very parade shots concise information in a friendly way, you might not be a friendly person as a deep person, but sorry, you have to just befriend at that point in time, and don't overwhelm them with data or too much information, because they're just struck, feel free to take the picture, allow them to the opportunity to share ideas is a very, very, they have lots of ideas. I recall, I was having that kind of discussion with a group. And this S C S person was telling me that oh, these are the IDS they are there's an Hi person on the she wasn't high D s actually, in the company. And she has so many ideas, idea, one idea to before the end of the day, she's come with a lot of ideas. But where is this coming from? It's just too much ideas. So she has an essay where she is free to share ideas. That doesn't mean ask the dumb you just write it down. You know, I get the salespeople marketing people say, Oh, well, we can do this. Yeah, we can do it. That doesn't mean we will do it for you write it down in the backlog, okay, we'll go off and how they think about it. So it's not to shut them down to say sorry, that cannot be done right now. It's okay, fine, let's get this done. We'll pocket we'll review it at some point. Again, relationship, it's all about the relationship we're trying to build. Okay, if you're s person, this is how they come across lawyer, reliable good listener avoids confrontation, or more good mediator, if you're talking to them, and you are not an S, you need to adapt yourself. Very pleasant, very less confrontational, provide, even making changes, inform them, consult them. So they if they feel they're brought along the journey otherwise, if they're either s people, and they have high power and influence, or you're working on a project, and you don't inform them from the get go, you're likely to get the end of the day. And it's all you know, because they were not carried along. When the project started. Okay, I believe that to whom much is given, much is expected. So if you know all these things, then you have there's a lot on you to adapt and ensure that other people are carried along. Okay, if S and S are communicating what a joy, even iron hypocenter communicating what a joy, sometimes you need to bring the conversation though. So they can they can get to do work. See people as they say comedor across this is for you. This this is what you see is analytical, organized, structured, works well within your schedule prefers to walk alone, quiet and reserved as a person, because they're very data driven facts oriented people, you need to focus on the fact as little as
Temi 
well, I caveat in your information is so important and giving us something that is not fact checked, because you lose all the credibility in the world. They're just they're just, that's just the way the heart. So it's saying, Well, I don't have all the details right now, because they won't like to hear the details. I don't have all the details right now. But I'm working to have the details, it gives them peace of mind, or at least you're doing something as opposed to I don't know, I have no clue. You know, so give them time also to analyze options. Again. The see people could be they could go into the rabbit hole. So it's, you probably want to time box them as well. I have quite a few see people in the engineering team and they just go off and you know, they're just checking and checking and wanting to build the next big thing that nobody knows about. It's just them. It's okay. It's enables them to do their work, but because they're not aware and because they want to do the best and the best and best, they just go in there. It's okay, you bring it outside. If that's where we have iteration, that's where we have Sprint's that's where we are working on agility. We know what are for whereby you have to wait on to the end to provide something, just enough information to do your work on just enough outputs to get feedback. It's all about encouragement. Okay, so once you've adapted your own and you submitted it was adapted your own style for the D person for the high person with s person and C person and they go away feeling and thinking that they were heard. And they go away feeling and thinking that they have a stake in the game. Then you and them wherever you are, you've achieved the goal to we win. So feel and thinking very important. Very, very crucial. Very important. Okay, other questions? Now, not yet. Okay. So scenarios for you. I think I've talked about this so go through it again. You are an AI as you know, we talked about is person, your boss is it is a D See, they're very, they're very finicky with documentation and report taking. And documentation is not really your own forte as an IS. You're not a people person, basically. Your boss is so pedantic and address you're not what do you do? This is a real life example, though. What do you
Temi 
tell them as an is, do you tell them? You know, I'm sorry? I can't. That is. I don't want to do that anymore. Get somebody else to do it? Or do you keep trying and trying and trying and you know that your DC person is very, their standard is very, very high, you probably cannot meet the standard anyway. So you're trying, you're really doing your job, you're trying your best hair? It's not just good enough. And it's driving you nuts? What do you do? You have a conversation with them. Open up your mic and tell me what you do.
Christine 
When it makes sense to look to mirror that individual, if he's direct, and so coming from a different place, just just sitting down and saying, I have a problem with this, can we talk about it? Would that be agreeable? Or am I smashing heads?
Temi 
I will do the same? You know, and for me, it's setting the expectation, what is your expectation? Kind of really is communication, right? Reality Check, can I ever meet your expectation? I'm sorry, I can't. So whether that leads to you leaving the job, or finding somebody else to do the job? You know, but it's good to have that conversation. So this this number, this eight one was a real scenario. And this is specific organization. was Jim was that bad? So it shows how, you know, it's for me, it's all conversation, communication. But if you get it wrong, it shows you how people feel, you know, it made me It shows how people feel and how we talk about the toxic toxic environment, etc. How they don't look forward to come into the water work anymore. It's important. Yeah, you ICS you love details, obviously, you manage hardware project, I need to know operational stuff, stock and inventory. Of course, because your hardware, the operational lead team is an is that a typo on HIE s? It never has real data. Okay, so and this impacts your projects planning negatively? How do you go about it? So while you know, you need to know, stocks inventory, so you know when to order for supply stuff, you don't have supplies, you really cannot build. Or when you build, you don't realize that if we to delivery, you don't have stock in which it just messes up your project, what do you do?
Christine 
I would explain with maybe kind of a user story legs scenario, why this data is important. What happens when we don't have this? What happens all the way through the project, how it affects all of us on the team out affects our stakeholders, our customer, try and get them to understand from the whole perspective of it without just mentioning the details, but saying, you know, in their conversational, more social realm, you know, this is how it's gonna affect the people and then follow up and saying, you know, now what do you think about that kind of like, Are you Are you understanding what I'm trying to get across? But without sounding rude to ask that?
Temi 
Yeah, yeah. Well, then Thank you, Chris, you realize you have something in common s&s. So it's that relationship that you want to leverage on. Because they are they will they can be friendly. That is really friendly, friendly and external friendly on the internet like one to one so we can if you can leverage an s&s You probably get a lot more because then they have a stick in their friendship. Caetano good friendship. Yeah, but yes, in a friendly way. You present that to them. Okay. Kids. All right. Moving on. So I'm inviting you, you know, I invite you to take a personality indicator report. It's, it's it's a 30 page report. I know it's a lot. A lot about you, not just a communication preference, but other things there. You can keep reading I really know read and discover yourself and understand, oh, this is why I do the things I do. This is why things you know gets me mad. Sometimes this is why I get frustrated about other people. But again, with self awareness comes
Temi 
So being able to change and make change, so if you're not even self aware, where do you start from? Where to start from. So I'm inviting you to that if you want to send me an email there, and we'll take it forward.
Temi 
And then I want to give you the gifts, Tomorrow's my birthday in Philly, so lucky,
Temi 
happy we are starting a workshop in October.
Temi 
It's a world class workshop is about communication. So I've talked about personalities. Right now I've talked about understanding preferences and adapting. But when it comes to the content of what you're saying, and how you say it, there is some nuances you also need to be aware of, okay.
Temi 
Communication really, for me, it's of kids in the house communication, I describe it for you, for me is about putting cereals or cookies, in every layer section of your pantry or your shell, so that everyone, no matter, their eyes can reach up to it without bending or stretching.
Temi 
So have what I think I'll be three feet or two feet tall and five feet tall person.
Temi 
I have cookies in every day of the show. You may say that duplication, but then do I get my outcome achieved, they go to the get down the morning, you have the breakfast themselves. I'm not involved. That's my outcome. That's what I want to do, do it cheap it
Temi 
is each person can go in and pick up their cookies or their cereals. And that's it. Good. So, there is that there is also the law of the many laws to talk about, like, Excuse me, how do you appeal to their heart? How do you appeal to the heart before you appeal to their minds logic, you know, hearts of our mind, how do you connect with them? How do you how do you practice a lot of listening so listening, listening to take keen before you talk. So quite a few other things to do with with with with communication, which I am you know, starting please, there are two options for for you here. Sunday starting October one to 29th five weeks, Sundays or Tuesdays, scan the code. And just because you're here, just because you've shown up just because I'm feeling lucky and generous. I'm giving you a promo code so save that save 200 agile immunity for the people here today. Okay, but it's gonna be fun time I'm going to it's going to be a fun time it's gonna be a lot of learning and conversation our conversation that we could share and bringing real life example be live data and walk through it understand what's relevant and somewhat framing there's quite a few days to go through them and five weeks so please feel free to join in there. Okay, so as we close I want you to identify one I want you to identify and tell me what sticks in your mind from today that we've shared what came across to you
Temi 
so you're going to type in any chart
Temi 
Yeah, sure.
Temi 
It does gets
Temi 
Okay, thank you Mike.
Temi 
Okay,
Temi 
yes, anymore grid.
Temi 
Communicating effectively with different styles may you have to do some things differently. You do have to do so. Yes, yes. First and that's right.
Temi 
Yeah, people are predictably different. Okay, good. And what is one thing you have learned
Temi 
that you will do differently
Temi 
just one thing.
Temi 
One thing you've learned that you will do differently
Temi 
you're gonna be checking people out. Are you on hire? Yes. Remember it's not about boxing them in the corner. Yes. Like that. Know when to show up. Ya know, life is better when? Yeah, yeah.
Temi 
No, I'll you show up. Yep. Great. PQ Thank you
Temi 
anymore. If I move on, okay.
Temi 
Well, that's it. That's it for me today. Thank you again. Thank you.
Temi 
So much for the opportunity to share. I can open up to questions now, I guess up to Dave. You're welcome. Well, thank you for thank you for joining. And thank you for investing in yourself. It's very important. people sacrifice their time because you could be somebody else's stuff. So people sacrifice their time to grow.
Temi 
You always get the benefits you get the page. It pays off. So well done to you too.
Temi 
Well done to you, too. Thank you, Dave.
Dr. Dave 
Great, yeah, no, this is great. Thank you so much for coming in and sharing your time today. This is you know, I really enjoy this topic, communications. And I'm not a big disc fan, but I love the way you presented it this this time. So I just want to give you kudos for for doing that work today. And for everyone else who showed up here today.
Kayana Singing 
Let's talk about it. talk, talk, talk. Lets go deep. We all have something to share. KnolShare with Dr. Dave
Podcast (ks_dd): Play in new window | Download (61.2MB) | Embed
Subscribe: Apple Podcasts | Email | RSS